Leading Senior Constable Lynette Taylor, Senior Constable Kevin King, Constable Glen Humphris and Constable Josh Prestney were killed when a semi-trailer veered into the emergency lane on the Eastern Freeway.
Truck driver Mohinder Singh, who worked for Connect Logistics, was behind the wheel when the semi-trailer ploughed into the officers.
Police have been investigating Connect Logistics since the crash. In May, the western Sydney-based company was issued with infringement notices for a string of safety breaches including truck defects and using fatigued drivers.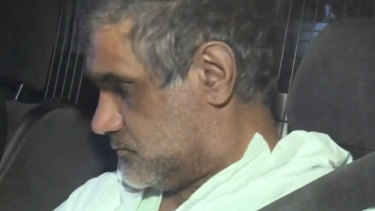 The Age has previously reported that among the 35 infringement notices, the company was fined for trucks with oil leaks and excessive brake-pad wear as well as minor defects including headlight damage and unsecured bolts.
One driver was charged with "critical hours" fatigue breaches and 15 drivers were fined for over-working.
Mr Singh, 47, has been charged with culpable driving causing the death. He was denied bail on May 3 and released a statement through his lawyer at the time saying he was "genuinely sorry and saddened" about the deaths.
Loading
The four Victorian police officers were in the emergency lane preparing to arrest Porsche driver Richard Pusey, who was allegedly caught speeding. Mr Pusey is accused of filming the dead and dying officers on his phone before fleeing the scene.
Mr Pusey is facing a range of charges, including driving at a dangerous speed, reckless conduct endangering life, failing to render assistance at the scene of a collision, possessing a drug of dependence and committing an act outraging public decency.
The cases of Mr Pusey and Mr Singh are still before the courts.
Connect Logistics distributes refrigerated goods for large corporate clients in the food industry, according to its website, which was deleted soon after the crash.
In the hours after the crash, police raided two residential properties in Frankston and Croydon linked to Connect Logistics.
At the time, Assistant Commissioner Libby Murphy would not say what had been seized at the homes but said it was standard procedure for police to be looking for documents during these kinds of raids.
Tammy Mills is the legal affairs reporter for The Age.