Send us a picture or Instagram one of Good Weekend in your life, using the hashtag #goodweekendmag. We choose one each week to publish here and in print.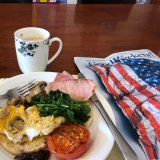 LETTERS
Reading all Good Weekend articles in one sitting, it's fascinating to see if authors unknowingly contradict each other. While Carmen Busquets [August 15], says she believes in the importance of not "getting attached to things", in the next breath (er, page), Terry Durack confesses he ships his dining table with him wherever he goes in the world. Moral of the story: whatever you love, treasure it! Claire Brown, Port Melbourne, VIC
Altered states
What a fabulous pair of eyes cast over 36 years of American culture, despair, hope, life and death [August 15]. Broad-brush analysis but with telling details about the fake president and what he brings to the role, and the next sales deadline, November 3. Then I read separate articles about Kamala Harris and Joe Biden, offering leadership and connection without cynicism, spin, double bluff and disaster. Verity Lloyd, Denistone, NSW
Nick Bryant makes insightful observations in this article. Donald Trump's message is really "Make America Hate Again". Collectively its population has not been able to breathe. Thomas Cromwell, Safety Beach, VIC
Sounds of silence
Christine Jackman's recollection of her days at a Vipassana retreat had me giggling, and also breathing a sigh of relief for humanity. Western society, until recent years, has maintained an overly rigid viewpoint on alternative forms of health and wellness. Your publication of this excerpt will act as a much-needed spiritual permission slip for many. Brooke Cutler, Bayswater North, VIC
Net value
In a COVID world where much purpose has been stripped away, Carmen Busquets' notion that the universe will wake us up, if we are still needed, is a comforting one. Harriet Carter, Warrandyte, VIC
Heavy Petting
I read Frank Robson's beautiful column on the death of pets and had an ugly cry [August 15]. Our 21-year-old feline friend recently passed away and I'm exhausted with grief. Guinness (aka The Prince of Darkness) was a benevolent but powerful sovereign, who led all here including a variety of very large dogs. One would leave his ball and other prized toys for safekeeping with Guinness as he sat on the window box, knowing that no other animal would dare touch them. Seeing his ball placed yesterday onto the empty space where his friend used to sun himself reminded me that humans aren't the only ones to grieve. Stacey Demarco, Avalon Beach, NSW
Exposure
I was a little envious when I read that [photographer Michele Mossop, August 15] has lorikeets that pass by her windows – I can only wish that the resident kookaburras here were that well-mannered. One has a nasty habit of peering down from its perch in a tree about 30 metres away before launching itself into my sunroom window. The resulting crash is dramatic, particularly if one is not expecting it, and I can only marvel that the bird has not finished up inside. That both are intact is a testament to the strength of my window and the bird's beak. Roger Thompson, Bowral, NSW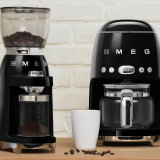 Want to chat? We'd love to hear from you. Send your letters to goodweekend@goodweekend.com.au (please include your suburb, state and phone number). Or give us your thoughts at Good Weekend online, or on our Facebook, Twitter or Instagram pages.
Reader prize Searching for an aromatic at-home coffee experience? The writer of the best letter in August will win this stylish Smeg drip coffee machine and grinder. RRP, $628; smeg.com.au. Letters must be succinct, with full name and contact details supplied. Winner will be notified by email.
To read more from Good Weekend magazine, visit our page at The Sydney Morning Herald, The Age and Brisbane Times.
Have a Good Weekend all week
We deliver the best of Good Weekend to your inbox so it's there when you're ready to read. Sign up for the Herald's Good Weekend newsletter here and The Age's here. Sent every Saturday.
tinyurlis.gdu.nuclck.ruulvis.netshrtco.de
آموزش سئو