We have made our live blog of the coronavirus pandemic free for all readers. Please consider supporting our journalism with a subscription.
Latest updates
Victorian Premier Daniel Andrews is listed as the first witness to appear before a public accounts and estimates committee today. It's the committee's second round of hearings since the pandemic began.
The committee is examining the state government's response to the pandemic, but is separate to the inquiry headed by former judge Jennifer Coate into Victoria's bungled hotel quarantine program.
Mr Andrews is due to appear at 9am, while Health Minister Jenny Mikakos and Chief Health Officer Brett Sutton are set to be questioned from 11am.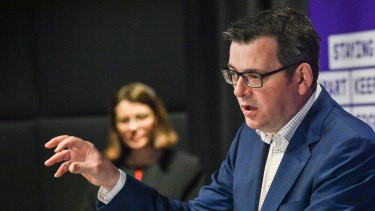 Back in April, the Andrews government succeeded in voting down a Greens motion to set up a cross-party committee to scrutinise the government's management of the pandemic.
Instead, the government opted for the parliamentary public accounts and estimates committee to examine its response.
The opposition and crossbenchers insisted the committee was not independent enough. The committee was expanded to include another crossbench MP, giving it an equal number of government and non-government members, but the Labor chair still has the casting vote.
At the time, Mr Andrews insisted the committee was best-placed to scrutinise the government's pandemic response.
"It routinely hears from ministers. It routinely takes evidence from departmental secretaries and we think that's the appropriate place to do this," he said.
Tangara School for Girls' junior and senior school, at Cherrybrook in Sydney's north-west, will be closed again today after the cluster of cases associated with the school grew to nine on Monday.
Our Lady of Mercy College at Parramatta has also moved to remote learning after a second student tested positive.
Bonnyrigg Heights Public School, in Sydney's south-west, will reopen today after being closed on Monday.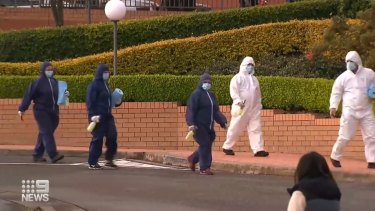 Fears of a fresh COVID-19 surge mounted this week as the UK saw its largest rise in new cases since the end of June.
However, data suggests the rise is being driven by more infections in younger people and increased testing.
A total of 1062 people tested positive for COVID-19 in the 24 hours before 9am on Sunday, nearly a fortnight after Prime Minister Boris Johnson warned of the possibility of a second wave of infections.
Surveillance data from Public Health England show the infection rate is rising among all age groups under 65, and falling in every age group above 65 – those most at risk.
In the 15-44 age bracket, the infection rate has risen by 35 per cent over the past five weeks.
It suggests the recent rise in cases is being driven by infections among younger people who may not have previously been picked up by testing.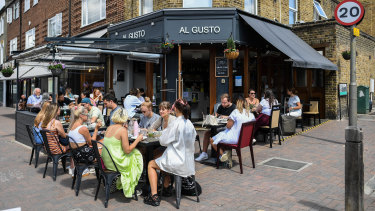 Meanwhile, those who are taken to hospital with COVID-19 now have much better chances of survival.
Deaths in intensive care units are at their lowest level since the pandemic began, according to data from the Intensive Care National Audit & Research Centre, with just two deaths in the final week of July.
During April approximately two patients were dying for every three discharged, while now one patient is dying for every three discharged.
The Telegraph, London
Today, both birthday wishes and well-wishes are in order for actor Antonio Banderas, who revealed on Monday – his 60th birthday – that he has tested positive for COVID-19.
"I want to make it public that today, August 10, I am forced to celebrate my 60th birthday in quarantine, having tested positive for the COVID-19 disease, caused by the coronavirus," the Oscar nominee wrote in a statement translated from Spanish to English by Variety.
"I would like to add that I feel relatively good, just a little more tired than usual, and am confident that I will recover as soon as possible following medical instructions that I hope will allow me to overcome the infectious period that I am suffering, and that is affecting so many people around the planet."
In recent months, Banderas has been using his platform to spread awareness about the COVID-19 pandemic and share photos of himself wearing a face mask while engaging in various outdoor activities.
The Mask of Zorro star is one of several Hollywood figures who have detailed their personal coronavirus journeys amid the public health emergency, including Tom Hanks, Rita Wilson, Idris Elba, Daniel Dae Kim, Alyssa Milano, Lena Dunham and Bryan Cranston.
"I will take advantage of this isolation to read, write, rest and continue making plans to begin to give meaning to my 60 years, to which I arrive full of enthusiasm," Banderas continued. "A big hug to everyone."
McClatchy
Pakistanis flocked to gyms, salons and restaurants that opened on Monday for the first time in five months after being shut to stop the spread of the coronavirus.
The South Asian country has recorded more than 280,000 cases of COVID-19 and nearly 6100 deaths, but has seen a slowing of numbers since June, when it recorded nearly 7000 infections and 118 deaths in a single day.
On Sunday, Pakistan recorded 539 new infections and 15 deaths. New daily cases have been under a thousand throughout August.
"Thank god, the government has allowed dine-in; we were managing through take-away, but now business will improve," said Sher Khan, owner of a tea stall in a bustling area of Karachi, Pakistan's largest city.
The government allowed a partial resumption of commercial activities in May. Despite reopening the remaining businesses, it urged people to take precautions including wearing masks.
In Lahore's Bazar Mozang, shops were packed and few people wore masks.
At a clothing and cosmetics shop, Nadeem Sheikh said he was reluctant to turn away customers who did not adhere to the rules for fear of the financial loss.
At a packed salon in the southwestern city of Quetta, Muhammad Usman was happy to shed locks of hair that had grown unruly over the months.
Pointing to his long hair and laughing, Usman said people had started to think he was an ascetic hermit and had approached him with charity, asking him to pray for them.
Gyms opened in the city of Peshawar, with customers relieved they no longer had to train at home.
"I gained 20 kilogram because of the closure of gyms," said Najeeb Ullah Achakzai, 27. "That destroyed all my personality… My marriage was postponed due to my becoming overweight."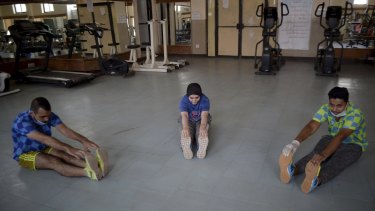 Keeping with the US for a moment, where a report by the American Academy of Pediatrics and the Children's Hospital Association has revealed that the number of COVID-19 cases among children rose 40 per cent in the last two weeks of July.
The report comes just weeks before tens of millions of American students are scheduled to begin the new school year.
Health experts are keeping an eye on coronavirus infections among kids and teenagers as officials struggle with the thorny question of whether to reopen schools for in-person classes, adopt a virtual learning model or a hybrid of the two.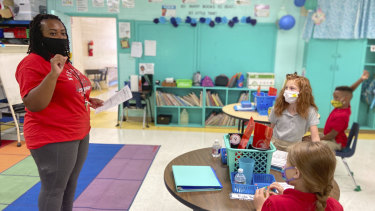 President Donald Trump, who is seeking a second term in the White House in a November 3 election, has pushed states to allow students to physically return to classrooms, but health officials have expressed caution about doing so in areas where cases have been rising sharply.
The new report found that more than 338,000 children have tested positive for COVID-19 since the onset of the US epidemic, with 97,078 new cases reported from July 16 to 30.
The report does not give a reason for the recent spike. Testing for the novel coronavirus overall has risen in the United States and concerns about children as possible spreaders of the virus have been sparked by new studies showing they can catch it.
The American Academy of Pediatrics noted the data showed that severe illness due to COVID-19 appears to be rare among children. The US Centres for Disease Control and Prevention recently updated its guidance to recommend that schools reopen to some degree unless their communities were experiencing an uncontrolled or high rate of transmission of the virus.
Some cities including Chicago and Los Angeles plan to start the school year with online classes, while New York City, once the epicentre of the US pandemic, plans to have at least some in-person learning in all its school districts in the fall.
Reuters
First off here are some key developments from overseas while Australia was asleep:
Yesterday we reported that confirmed coronavirus cases in the US hit 5 million on Sunday – a bleak milestone. But there is a glimmer of hope this morning.
The US death toll from COVID-19 fell 16 per cent to about 7200 people last week, the first decline in deaths after four weeks of increases, according to the Reuters news service.
The country posted more than 376,000 new COVID-19 cases for the week ended August 9, or an average of roughly 53,000 per day. New cases have now fallen for three straight weeks, though the United States still accounts for a quarter of the global total of 20 million cases.
Reuters
More than 19.9 million coronavirus cases have been confirmed worldwide, with more than 732,000 deaths, according to the tally by Johns Hopkins University. As always, the actual numbers are thought to be far higher due to a number of reasons including limited testing.
Overnight, more than 100,000 people recovered from the virus, taking that tally to 12.15 million.
The United States, Brazil and India account for more than half of all known infections. The disease has infected at least four times the average number of people struck down with severe influenza illnesses annually, according to the World Health Organisation.
You can explore our data centre (below) for the latest figures across the globe:
Good morning and welcome to our rolling coverage of the coronavirus pandemic on this Tuesday. It's Marissa Calligeros here.
Yesterday, reader Jess told us that the best moment of her weekend in Melbourne's stage four lockdown was listening to Van Morrison's Days Like This while "baking the obligatory banana bread".
I'm not a great baker, but I am a fellow Van Morrison fan.
So, to follow Jess' lead, here's a song to start off your morning and remind us that we will get to the bright side of the road: