We have made our live blog of the coronavirus pandemic free for all readers. Please consider supporting our journalism with a subscription.
Latest updates
Cupcakes, as everyone knows, serve a single, noble purpose: they lift the spirits.
And so when one of my daughters, living in country Victoria, baked a batch of cupcakes, she thought of her sister and baby niece locked away in sombre, curfewed Melbourne.
Frosting her creations with swirls of chocolate icing, my daughter set to thinking about how she could have one of these mood-enhancing dainties delivered to her sister and baby hunkered behind the ring of steel that is Victoria's capital city these days.
Carefully snugging a cake into a little plastic container, she hurried to the local post office, hoping to catch the afternoon mail.
One of the post office assistants spied my daughter hunting for the most suitable packaging and offered to help.
When she learned the nature of the mission – a cupcake for a sister and baby in faraway, forbidding Melbourne – she alerted the whole staff, who, caught by the mood, sprang into action.
Click here to read the story.
The state government and City of Melbourne have held crisis talks aimed at helping the city pull through the COVID-19 pandemic, as the Victorian economy faces a $41 billion hole in coming years from the effects of repeated lockdowns.
Lord mayor Sally Capp said the size of Melbourne's economy had peaked at $104 billion before the pandemic, but it had been hit hard by lockdowns.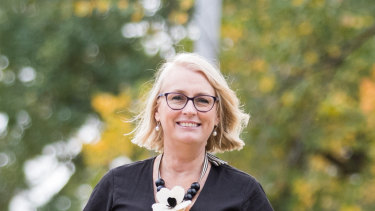 "As a result of the health crisis, our economy has been disproportionately impacted and the devastation and despair is being felt across our city," she said.
More than 10 per cent of jobs have been lost already and at least 12 per cent of CBD businesses are forecast to close their doors for good once the lockdown is lifted.
The Age and SMH reported on Wednesday that lockdowns imposed to stop the spread of coronavirus across Victoria could punch a $41 billion hole in the state's economy and drag it back to where it was in 2016 amid fresh warnings its COVID-19 outbreak is holding back the entire nation.
Click here to read the story.
Premier Daniel Andrews says while sporting events will be part of the state's COVID-normal, he doesn't think we're going to see 100,000 people at the MCG 'for quite some time'.
Mr Andrews said while that doesn't mean major events like the Boxing Day Test and the Australian Open won't go ahead, it will depend home much COVID-19 is still in the community.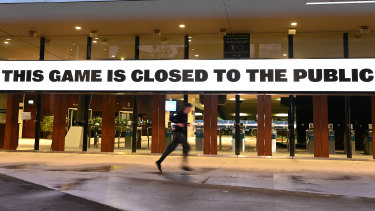 "I don't think we're going to see 100,00 people at the MCG for quite some time," he said.
"It doesn't mean there won't be thousands of people at the MCG. I can't predict what will happen with crowds… COVID-normal can involve some crowds, but the size and makeup of those would be a matter of medical advice.
"(It depends on) how successful the defeat of this second wave is and that kind of settling into covid-normal.
"It's not unimportant – people would love to get back to whatever sport they're passionate about – but I think the rules and the easing is much more focused on jobs, getting people back to work and getting businesses open."
With Melbourne currently experiencing an absolutely gorgeous late Winter day, the Premier has urged people to maintain social distancing as they get out and about for exercise.
With a top of 20 degrees predicted for today, Daniel Andrews asked Victorians not to do anything this weekend that "might jeopardise the strategy".
"When you look at the months to come, as it gets warmer and people begin to be more social… we need to defeat this properly now," he said.
"We will not get this time back and we do not want a situation where we put at risk the gains that we have made."
Premier Daniel Andrews said that Victorian 'should be positive' with case numbers under 100 for the first time since early July.
The Premier said he got a call at 10pm last night that cases were around 100, but that number ticked down to 94 due to test duplicates.
"People should be positive, the numbers are coming down," he said.
"I am very pleased to see the strategy is working and I am very grateful and very proud of every Victorian who is working so hard to make this strategy work."
For the aged care sector, there are still 1305 active cases, accounting for around a third of Victoria's current active cases.
In disability facilities, there are a total of 43 active cases, with 29 among staff members and 14 among residents.
There are 411 healthcare workers who have an active case of COVID-19.
Premier Daniel Andrews said while Victoria recorded less than 100 cases of COVID-19 today, the government could not provide a detailed roadmap out of the pandemic.
Mr Andrews said he would give people "as much notice as possible" on any changes to lockdowns, with only two weeks until stage four lockdown was expected conclude in metropolitan Melbourne.
"Not just for the sake of perhaps being popular for a few days I am not going to announce something that we are not confident with, that we do not have enough data for," Mr Andrews said.
He said while the government was not seeking to have three months of zero cases before life returned to normal, cases could still spiral out of control if the state opened up too early.
"I think most Victorians know and understand while they would like to flick a switch on the 14 September and simply go back to absolute normal, that is not going to be possible, we are going to have to ease back into that COVID-normal," Mr Andrews said.
"We will make announcements when the data and when the science of this allows us to.
"It is frustrating, I completely appreciate that. That is the nature of this virus, it is very, very difficult to plan ahead."
Premier Daniel Andrews says the government is "looking very closely" at the potential for a broader 'household bubble' for single people living alone.
Mr Andrews said the notion of being able to spend time immediate family, or someone nominated by a single person living alone, was being considered and was "the appropriate thing for us to do".
But he said it was still too soon to make any announcements about how Victoria will navigate the way out of the pandemic.
"It is a bit early for us to finalise those matters but we are looking very closely at that, because we do know … that this is particularly challenging for those who live on their own, and we want to try and support them," Mr Andrews said on Saturday morning.
"We are so close to driving this down to very low numbers, and we have all just got to find a way to stay the course.
"There will be a plan, it will be detailed, it will be based on science and data and evidence in the very best of medical advice."
There were just over 18,000 COVID-19 tests completed on Friday.
The Premier says cases in regional Victoria are continuing to drop, which is 'critically important' for the state's fight against the virus.
Daniel Andrews said there is now just 117 active cases of COVID-19 in the regions.
In Greater Geelong, there are now 59 active cases, with no new cases overnight.
In Greater Bendigo there are 16 active cases, with one new case.
Ballarat has six active cases, with no new cases overnight.
"So in those communities and indeed right across regional Victoria we are seeing numbers falling steadily, and that is critically important," Mr Andrews told reporters on Saturday.
"Thank you to everybody in regional Victoria, from regional cities to the smallest of country towns, doing an absolutely magnificent job in following the rules.
"I know it is difficult, I know it is challenging, but it is working."
The state government is connecting volunteers with Victorians who need help via a new online platform to match volunteers to roles where their skills are best suited.
"We Volunteer" is now open for registration from today.
People looking for volunteer roles can register their skills and search for roles that meet their interests – with many of these roles able to be performed at home.
Volunteer organisations will also be invited to sign-up to the portal and use it to make callouts for volunteers needed on different projects.
The government is also investing $2 million to boost the Community Activation and Social Isolation initiative.
CASI is an expansion of the Victorian coronavirus hotline and is supporting people experiencing loneliness or social disconnection.
"Community by community, street by street, home by home, this is about building connection," Mr Andrews said in a statement released a short time ago.
"We want to match those who can help with those who need it – whether that's dropping off a food parcel, a quick chat on the phone, or lesson on how to Facetime with loved ones."
tinyurlis.gdclck.ruulvis.netshrtco.de
آموزش سئو