We have made our live blog of the coronavirus pandemic free for all readers. Please consider supporting our journalism with a subscription.
Latest updates
The coronavirus pandemic and the resulting economic crisis has put the future of young Australians in particular in sharp focus
With the pandemic's end date unknown and employment prospects uncertain, remaining optimistic can be challenging.
In an opinion piece this week, economics editor Ross Gittins outlined how the greatest burden of recessions such as this always falls on the young: entry-level hiring is postponed at such times, young people are likely to miss out on pay rises that are more common in the first decade of one's working life, and the young dominate the ranks of the underemployed.
"If past recessions are any guide, most of us will have recovered from the coronacession and be back enjoying the life we love long before most of the present crop of youngsters leaving education have found themselves a decent job," he wrote.
Click here to read the full column.
The manager of a Melbourne hotel behind most of the state's COVID-19 outbreaks says he made several complaints about the conduct of security guards.
Rydges on Swanston has become ground zero for Victoria's deadly second wave of coronavirus.
The virus spread from returned travellers in quarantine to staff working at the hotel, including security guards, and into the community.
The hotel's manager Rosswyn Menezes said he reported several concerns about security guards leading up to the outbreak on May 25 including:
Guards sitting together and having meals.
Social distancing protocols not followed.
Guards in lobby gathered around to watch videos.
Mr Menezes said security was overseen by Unified Security, who sub-contracted to another company called Elite Protection, up until Corrections Victoria took over at the hotel in early July.
He complained to the Department of Health and Human Services and Unified about the guards and it led to Elite Protection staff being stood down.
"The whole team was stood down," he said.
Unified Security continued providing security staff there until Department of Corrections came in.
His complaints continued after the change-over of security, the inquiry heard.
Deputy Chief Medical Officer Dr Nick Coatsworth gave some of the strongest comments so far against the use of hydroxychloroquine, and the promotion of the drug by Liberal backbencher Craig Kelly.
"I think Australia is very clear on which Kelly should be listened to," he said, referring to Acting Chief Medical Officer Paul Kelly.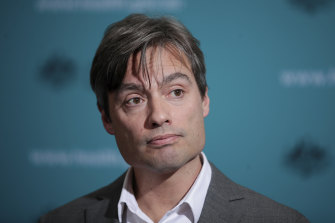 "Paul Kelly, like myself — like all clinicians around Australia — understand that, regrettably, hydroxychloroquine is not effective for COVID-19."
The Morrison government yesterday refused to publicly rebuke Kelly for using the federal Parliament and his social media account to attack its reliance on clinical evidence in banning the controversial COVID-19 treatment hydroxychloroquine.
Dr Coatsworth said he understood why so many Australians were searching for solutions, but that hydroxychloroquine was not the answer, noting a generous donation of the drug from Clive Palmer which meant that Australia was in high supply.
"There are no circumstances where we would sit on that much hydroxychloroquine if it were useful for COVID-19, we would be giving it to patients right now but unfortunately it is not," he said.
"The trials are clear on that and in fact, the World Health Organisation pulled hydroxychloroquine from one of his trials because the evidence was so clear that it was not effective. That does not happen very often, it only happens when it is clear there is no benefit.
"Regrettably, hydroxychloroquine is not the answer."
Deputy Chief Medical Officer Dr Nick Coatsworth provides an update.
London: British Prime Minister Boris Johnson will launch a major drive to get Britons back to the office as ministers warn that working from home will make people more "vulnerable" to being sacked
A publicity campaign to begin next week will extol the virtues of returning to the workplace, making the "emotional case" for mixing with colleagues and highlighting the benefits to mental health, several ministers and sources said.
It will also provide reassurance that "the workplace is a safe place", while a new online tool will help people avoid the most crowded trains and buses.
While the media blitz, to be launched at the end of next week once schools in England have reopened, will focus on the positives of returning to the office, ministers are already warning of the negatives of home working as part of a carrot and stick approach.
The Telegraph, London
Read the full story here
Thanks so much for all the comments and interaction today. It's been a blast and I will now be handing over to Matt Bungard who will be leading the line for the rest of the day.
Please have a great Friday and a lovely weekend, make sure you check back in with us on Saturday and Sunday as I'll be on the blog both days.
Be well and I'll see you all tomorrow.
The boss of a hotel where major COVID-19 outbreaks occurred in Victoria said he was initially advised that his staff didn't need to isolate.
Outbreaks at the Rydges on Swanston in May are responsible for 90 per cent of the state's current coronavirus cases, Victoria's inquiry into the hotel quarantine program has heard.
The hotel's general manager Rosswyn Menezes told the inquiry this afternoon that he received a letter from the Department of Health and Human Services informing him staff at the hotel had potentially been exposed to COVID-19.
The letter said anyone who had spent more than half an hour in the hotel between May 18 and May 27 had to undergo a test.
A department epidemiologist previously told the inquiry the outbreak started with a family of four who tested positive and were transferred to the Rydges on May 15.
On May 25, three staff members – a mixture of Rydges staff and staff contracted to work at the hotel – were then diagnosed with COVID-19.
Mr Menezes said he had found out one of his staff tested positive on May 26 and he ordered all staff who were in the building to get tested.
"I asked DHHS team leader on site should we isolate straight away? I believed that we were advised at that point we did not have to because we were not a close contact," he said.
But that changed by May 30 and staff were required to isolate.
"I remember getting a call from public health advising me that everyone who was in the building between a certain date range had to self-isolate for 14 days," Mr Menezes said.
This led to the hotel shutting down from June 1 until June 18 before it took quarantined travellers again in late June.
The inquiry heard the hotel staff were not in charge of training security guards in the use of PPE.
Mr Menezes said in the early operations of the program at his hotel, he did not see the nurses training security staff.
There have been two new cases of COVID-19 in Western Australia overnight, bringing the state's total to 655.
Both cases are returned overseas travellers who are in hotel quarantine.
WA currently has nine active COVID-19 cases – six Western Australians and three people from interstate.
There have been 637 recoveries from the virus in WA.
Active coronavirus case numbers have dropped in 75 per cent of Victoria's postcodes over the past week, analysis of new Health Department data shows.
Readers can view the change in active cases compared with one week ago for their area by using the map below. Simply type in a suburb or postcode to locate an area or use the map controls to drag the map view to an area.
The menu in the top right of the interactive can also be used to select a map of active case numbers or the active case rate for each postcode.
(If you prefer to view this information as a table, we've included a searchable database a bit further down in this article.)
As of last Thursday, there were 282 postcodes in Victoria with at least one active coronavirus case, but over the past week there has been a drop in the number of people currently infected with the virus in 206 of those areas.
Click here to read the story.
The manager of the hotel where major COVID-19 outbreaks occurred said he wasn't sure why his hotel was selected to quarantine people known to have COVID-19.
Outbreaks at the Rydges on Swanston in May are responsible for 90 per cent of the state's current coronavirus cases, Victoria's inquiry into the hotel quarantine program has heard.
From April 27, the hotel became a "COVID hotel" and hosted returned travellers diagnosed with coronavirus.
Almost 90 per cent of the 350 quarantined guests had the virus.
"Why in particular was your hotel selected?" counsel assisting the inquiry Tony Neal QC asked Rydges manager Rosswyn Menezes this afternoon.
"I do not know the answer for that question," he replied.
He said his hotel does not have balconies and about 30 per cent of rooms have windows that could open.
tinyurlis.gdclck.ruulvis.netshrtco.de
آموزش سئو