We have made our live blog of the coronavirus pandemic free for all readers. Please consider supporting our journalism with a subscription.
Latest updates
Let's have a quick look at the front pages of The Age and Sydney Morning Herald this morning.
Starting in Victoria the headlines are unsurprisingly all about coronavirus and who knew what about hotel quarantine as questions continue at a parliamentary committee.
Australian Defence Force officials were sent to Victoria to help plan the emergency response to the COVID pandemic – including the quarantining of returned travellers – a week before the hotel regime was approved by the national cabinet, write Chip Le Grand and Sumayya Ilanbey.
Aged care operators have been left waiting for key parts of an $812.8 million federal plan to help deal with the coronavirus, sparking fears the help will come too late to save lives.
A wage bonus for aged care workers was not paid until last month and other measures may not be completed until June next year, under long time frames for the budget assistance.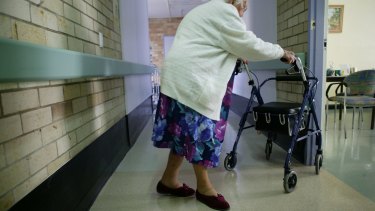 Concerns about the slow spending come as the aged care royal commission grills federal officials over whether they failed to develop a plan to protect aged care residents from the pandemic.
The federal government's budget update on July 23 included an aged care response package worth $812.8 million over two years, with $375.2 million meant to be paid in the 2019-20 financial year.
One of the biggest measures, a workforce retention bonus, was not paid to workers until July even though it had been promised in March.
A second instalment of the bonus is due in September, with each payment worth $800 for those in residential care and $600 for those in home care.
Aged and Community Services Australia chief Patricia Sparrow said her group and others requested greater funding for the sector early this year after seeing the pressure on workers and facilities.
Read more: Aged care operators were left waiting for promised financial aid
The British government has changed the way it compiles coronavirus deaths, a move that reduced the country's official death toll by more than 5,000.
The Department of Health said the new total is 41,329, down from 46,706. That is still Europe's highest death toll.
The government announced last month that it was reviewing the way death statistics were compiled, after academics pointed out that in England the tally included anyone who has tested positive for COVID-19 and later died, with no cut-off point between positive test and death. That means some people recorded as coronavirus deaths may have died of other causes – and the proportion would increase over time.
That could explain why England has been showing far higher daily death tolls than Scotland, which only counts deaths that occur within 28 days of a positive test.
Public Health England said that it will also adopt a 28-day cut-off date, bringing it into line with the rest of the UK. People who die more than 28 days after testing positive, but fewer than 60 days, will be added to the total only if COVID-19 appears on their death certificate.
Public Health England said it made the change after discovering that "in recent weeks the numbers of deaths in people who have tested positive have become substantially greater than the numbers of deaths subsequently registered as COVID-19 deaths" by the Office for National Statistics, which uses death certificates to keep its tally.
The change highlights the difficulty of comparing death tolls among countries, which use different counting methods.
Greece reported 262 new cases of COVID-19 on Wednesday, its highest daily tally since the start of the coronavirus outbreak in the country.
The latest jump in cases brings the total number of infections in Greece to 6177 since its first case surfaced in late February. There have been 216 deaths recorded.
Of the new cases, 85 were registered in the northern Greek city of Thessaloniki and 66 in the capital Athens.
The increase in infections in recent weeks has prompted authorities to gradually introduce more restrictions during the peak of the tourism season.
From August 17, visitors arriving from Sweden, Belgium, Spain, the Netherlands and the Czech Republic will need proof they have tested negative for the novel coronavirus to gain entry. The test cannot be older than 72 hours prior to arrival.
The same requirement will apply to all visitors entering Greece via land borders. A negative test is already required for passengers arriving with a flight connection from Bulgaria, Romania, the United Arab Emirates and Malta.
Civil aviation authorities on Wednesday extended a ban to flights from Turkey until August 31 and restricted flights from Albania and North Macedonia to Athens airport only.
Reuters
New South Wales contact tracers are close to identifying the suspected "patient zero" for the Tangara School for Girls cluster linked to a religious study retreat.
The number of COVID-19 cases associated with the independent Catholic Opus Dei school in the Sydney suburb of Cherrybrook has grown to 19, including 12 senior students, one teacher, four household contacts and two casual contacts.
The source of the Tangara cluster is still under investigation but NSW Chief Health Officer Kerry Chant indicated her team had found a likely index case.
"We have some hypotheses but that person is not linked to a known cluster," Dr Chant said, suggesting contact tracers believe they have found the first person to have contracted coronavirus among the cluster cases, but do not know how they were infected.
Read more: Contact tracers zero in on source of Tangara cluster
New outbreak data shows that abattoirs and warehouses are the workplace settings with the most COVID-19 cases. But aged care, healthcare providers, schools and households remain the major places for transmission of the virus in Victoria.
Figures released by the Health Department on Wednesday show aged/residential care accounted for most outbreak infections, with 137 outbreaks and 2453 cases between June 1 and August 11.
Schools had 69 outbreaks and 630 cases; hospitals and healthcare had 53 outbreaks and 540 cases; and childcare centres had 21 outbreaks and 180 cases.
Abattoirs have had 551 total cases, while warehouses have been connected to 439 cases.
The largest number of cases – 5004 – comes from a category labelled "other", which includes student accommodation, backpacker hostels and family and home settings.
The number of active coronavirus cases fell for the first time in two months on Wednesday, but there are new concerns about the rising number of infections in regional Victoria.
Read more: New data reveals workplaces with most COVID-19 infections
France reported 2,524 new coronavirus infections over the past 24 hours, a new post-lockdown daily record, but there was no strain on hospitals as the virus circulates mainly among younger people, the health minister said.
France's cumulative total of cases now stands at 206,696 and the seven-day moving average of new infections – which smoothes out daily data-reporting irregularities – increased to 1,810, the highest level since April 24, when the epidemic was in full swing and France under strict lockdown.
Despite the spike in infections, the number of people in hospital with COVID-19 continued to fall and was down by 121 to 4,891, the first time it fell below 5,000 since March 19. It had set a high of 32,292 on April 14.
The number of people in intensive care with coronavirus also continued its slide, down by 12 to 379.
Health Minister Olivier Veran said that the number of infections that lead to serious complications was now much lower than in February-March.
"There are several explanations, notably the fact that patients diagnosed with COVID now are younger, 20 to 40, and less fragile, and because older people continue to protect themselves well," Veran said on France 2 television.
He said the government would do all it could to avoid a new lockdown, and that schools are scheduled to open normally in September, albeit with the virus protection procedures.
The government will also gradually ramp up police checks to ensure people wear face masks where it is mandatory and respect social distancing.
The seven-day moving average of daily new infections – which topped at 4,537 on April 1 – has now been above 1,000 for two weeks, with the infection rate increasing as millions of French people travel and social distancing rules are not always respected in busy areas.
The daily death toll increased by 18 to 30,371 on Wednesday, compared to 14 on Tuesday and a seven-day average of nine.
The Trump administration will unveil eight new measures for US schools to follow as they reopen to increase protection against the coronavirus pandemic, White House adviser Kellyanne Conway said.
"We want them (schools) to open soon and safely, and we're coming up with eight measures or so on how to do that, which will be announced today," Conway said in an interview with Fox News Channel.
Later on Wednesday, Trump held a schools event where a small group of parents, teachers and assorted other individuals called for the reopening of schools, though the administration did not unveil particular steps.
Trump has scheduled a news conference at 5.30pm local time (7.30am AEST), where he will be joined by members of his coronavirus task force, including White House adviser Scott Atlas, who is a forceful advocate of reopening schools.
Trump has repeatedly pushed for schools to reopen, saying there are low risks to young people from the virus, even as teachers and public health experts have raised alarms about whether it could be done safely.
But, despite Trump's efforts, most of the country's largest school districts have said they would start the school year with online classes, as states across the country have battled a spike in cases over the summer.
"Virtual (education) is not as good as being there. Virtual is just not the same thing," Trump said at the White House event. He also said he thought that students should return to the classroom every weekday.
Opinion polls have found that support for full-time, in-person schooling has dropped as the pandemic has dragged on, though Republicans are significantly more likely to back students' return to classrooms full-time in the fall than Democrats are.
Thanks for joining us today, I'm Kate Rose and I'll be with you this morning as we cover all the latest coronavirus news and numbers from around the country.