We have made our live blog of the coronavirus pandemic free for all readers. Please consider supporting our journalism with a subscription.
Latest updates
Four Queenslanders have been fined and ordered into hotel quarantine after reportedly attempting to sail a yacht from Byron Bay to Cairns.
Maritime Safety Queensland on Friday intercepted the yacht and issued those on board with fines for failing to obey a health officer's direction and ordered them into hotel quarantine at their own expense. Their yacht is now at anchor.
In a statement, MSQ said it was operating a 24/7 operation on Queensland's interstate maritime borders, with skippers contacted by phone or radio for the number and identity of people on board.
Skippers are required to provide their border declaration passes and proof of identification before entering Queensland waters.
Meanwhile, two crew members of a cargo ship who tested positive to COVID-19 yesterday will be taken to Townsville Hospital for treatment.
The rest of the crew have tested negative.
There are currently nine active cases across Queensland.
The three Logan women who caused a stir by allegedly lying on their border passes after a Melbourne trip before testing positive have now been released from Princess Alexandra Hospital.
They are facing court at a later date.
The Andrews government abandoned a key element of its own pandemic planning by failing to put Victoria's Chief Health Officer, Brett Sutton, in charge of the state's emergency response.
Under Victoria's plan for an influenza pandemic, developed in 2015 by public health and emergency management experts who worked through the 2009 swine flu pandemic, the Chief Health Officer would assume the role of State Controller and "overall responsibility for emergency response operations".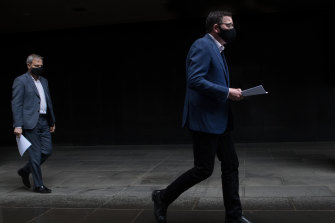 Instead, over the past few months the critical role of State Controller passed between a middle-ranking health bureaucrat, a forest firefighter, a career police woman and a State Emergency Service executive, none of whom have a medical background or experience in containing infectious disease.
These appointments were made by Department of Health and Human Services Secretary Kym Peake. Two weeks ago, at the height of Melbourne's second wave, Ms Peake stepped into the role herself as part of an organisational overhaul of the state's COVID-19 response.
Premier Daniel Andrews said these decisions were no reflection on Professor Sutton's capacity to do the job of State Controller.
Click here to read the full story.
California has become the first state in the US to surpass 600,000 confirmed coronavirus cases.
As of Friday morning, local time, there were more than 603,000 recorded cases. The state also has now reported more than 11,000 deaths.
Yet despite the grim numbers, there is growing evidence that the surge in infections and fatalities that began when California reopened its economy in May is beginning to slow.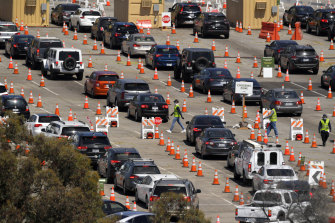 In Los Angeles County, the effective transmission rate of the coronavirus is now about 0.86 — meaning that every one infected person passes the virus to an average of 0.86 other people. Last week, the rate was at 0.91.
And statewide, an ensemble computer model known as the California COVID Assessment Tool estimates California's overall transmission rate is about 0.96.
Hospitalisations are also falling in many regions of California. Statewide, the average number of people who were hospitalised seemed to peak in late July, when an average of nearly 7000 people were in hospitals with confirmed coronavirus infections over a seven-day period; by Wednesday, that number had fallen to 5710.
"While our gains might feel slow and our future remains fragile, our success over the last three weeks is real," Los Angeles Mayor Eric Garcetti said on Wednesday.
"We begin to see signs of light."
McClatchy
Click here to read more.
Prime Minister Scott Morrison has apologised for failings in the aged care system's response to the coronavirus pandemic but pushed back against calls for a national advisory body.
The aged care royal commission on Thursday urged the government to consider setting up a dedicated aged care national co-ordinating body.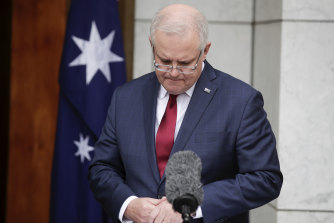 Asked whether he supported the proposal, Mr Morrison on Friday said the aged care response centre the Commonwealth had established in Victoria – where 188 nursing home residents have died from COVID-19 and there are more than 1122 active cases – already mirrored that body.
In royal commission hearings about the coronavirus response this week, senior counsel assisting Peter Rozen, QC, said the federal Health Department and aged care regulator had failed to develop a plan for the sector.
Mr Morrison rejected that claim, outlining a raft of actions taken to stem the virus' rampage through Victorian aged care facilities.
"The sad truth is, some days, we fall short. And other days, we don't. On some days, the pandemic gets the better of us and on other days it doesn't," he said. "On the days that the system falls short, on the days that expectations are not met, I'm deeply sorry about that."
Click here to read the full story.
Tangara School for Girls will not be charged for any breaches of COVID-19 protocols after a coronavirus cluster associated with the school expanded to 21 cases on Friday.
A NSW Police spokesperson said an investigation determined "no breaches of Public Health Orders have taken place".
The school community has been asked not to speak to the media but one Tangara parent anonymously reported alleged breaches of COVID-19 protocols to radio station 2GB.
The parent told host Ben Fordham on Thursday morning that weekly primary school choirs were still being held without social distancing and compulsory Mass had continued, with students and teachers taking communion.
Click here to read the full story.
A controversial Federal Government decision to assert cabinet confidentiality over discussions between the Prime Minister and state leaders in national cabinet will likely prevent Victoria's hotel quarantine inquiry from accessing the highest level discussions about the program.
As the board of inquiry team headed by former state coroner Jennifer Coate sorts through more than 100,000 Victorian departmental documents, a constitutional fight is brewing over the Commonwealth's position.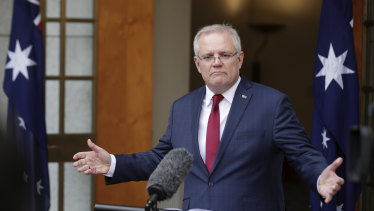 A spokesman for Mr Morrison confirmed on Friday that Ms Coate's inquiry had sought a submission from the federal government and that, "The government welcomes the opportunity to provide information that it believes will be of assistance".
But sources with knowledge of the Morrison government's position have told The Age and The Sydney Morning Herald that the government intends to assert that the national cabinet is covered by the same confidentiality provisions that apply to all other Australian cabinet discussions.
Sources familiar with the establishment of the Victorian inquiry believe it may need to access records of discussions that took place at the May 27 national cabinet meeting in order to get a full understanding of state responsibilities for quarantine and what role the Australian Defence Force was to play.
Click here to read the full story.
NSW Health has been held responsible for serious, inexcusable and inexplicable mistakes in the Ruby Princess cruise ship debacle, but a special commission of inquiry says the failures came from decisions made by medical experts rather than political leaders.
The report by Bret Walker, SC, from the Special Commission of Inquiry into the Ruby Princess was handed to the Berejiklian government on Friday afternoon, with sweeping criticisms of NSW Health.
On March 19, 2647 Ruby Princess passengers were allowed to disembark at Circular Quay and travel home, but within 24 hours three COVID-19 tests performed aboard had returned positive.
In the weeks that followed, 712 passengers and 202 crew tested positive and 22 people died. But only 19 people in NSW and 15 people interstate were infected by those passengers.
Mr Walker's report says NSW Health should have ensured ships were aware of the change to the definition of a "suspect case" for COVID-19 made nine days before the ship docked in Sydney.
"This would have resulted in the identification of such cases on the Ruby Princess – 101 persons fell within the suspect case definition by March 18, and 120 by the time the ship docked," it says.
Click here to read the full story.
This week, 110 Victorians died of coronavirus, in tragedies that remained largely hidden from public view.
Healthcare workers have been among the few bearing witness to the tragedies, compounded by the heartbreaking necessities of the pandemic.
On an ordinary day in intensive care, there would be a huddle of family members at the bedside of a patient as their life support was switched off.
G'day all. It's Roy Ward here and I'll be running the live blog for this Saturday.
We will have plenty of reaction to come today in the wake of the Ruby Princess inquiry in NSW and as the Victorian inquiry into hotel quarantine faces some obstacles.
We will have all the developments throughout the day and as always please feel free to leave a comment on the blog or shoot me a tweet at @rpjward on Twitter.
I hope you all have a lovely day and enjoy the stories to come.